We've scoured the web, spoken with veteran skydivers around the globe and evaluated our own experiences to come up with a definitive list of the best skydiving drop zones in the world. The team looked at factors such as weather, visibility averages, yearly availability, scenic beauty, drop zone accessibility and more to rank our top 10 spots.
We're starting at the bottom at working our way up to the number 1 spot. Here we go!
10. Palm Jumeirah, Dubai
This incredible drop zone is seen in skydiving magazines around the world. The signature palm-tree-shaped islands provide a stunning backdrop in the Persian Gulf and a unique experience seeing this man-made feat from 14,000 feet.
It's made our top 10 due to great accessibility – it's one of only two city drops on our list. Although, because skydiving is so popular at this location, Dubai's operators can book out quickly. If you're planning a trip to Dubai, be sure to book in your spots days if not weeks in advance. One common drawback we hear about is reduced visibility and low hanging clouds, which could be a huge bummer if you're only in Dubai a short while. Plan accordingly!
9. Mount Everest, Nepal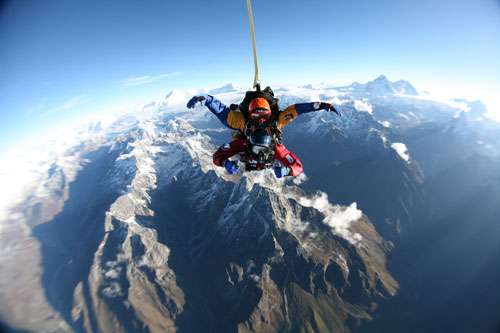 Arguably one of the most famous drop zones in the world, Mount Everest and the Himalayan mountains have been hosting skydivers since extreme sport around the area became popular and more accessible to the masses. The beauty and sheer scale of this drop zone cannot be understated. Being one small human surrounded by the largest mountain range in the world is nothing short of humbling, and the experience will surely provide memories lasting a lifetime.
A drawback of the area has to be its climate. With snowy peaks, difficult terrain and wind conditions, you may have to wait weeks if not an entire season to get a good forecast. Oh, and it's also quite chilly at these altitudes. Pack those insulated jumpsuits!
8. Mysore, India

From Nepal, we're heading south to India to reach number 8 on the countdown. While it's not as famous as the previous two drop zones on the world stage, it's truly a hidden gem of Asia. Mysore (Chamundi Hills) is renowned for lush green forest views and beautiful patterns of ancient ruins scattered atop hills.
If you are travelling through India, it's an absolute must! Although unless you're in the relative area, it's fairly difficult to get to just on its own. We also recommend avoiding monsoon season in the region (June – October) for the best chance at favourable conditions.
7. Namib Desert, Namibia
Credit: Backpacker Travel
If you're searching for a drop zone unlike any other, look no further than the Namib Desert in Namibia. Surrounded by desert and rolling dunes for as far as the eye can see coupled with the stark contrast of the sand colliding with the sea makes for one incredible jump.
This drop makes our list for its sheer uniqueness and breathtaking scenery. Just like number 8, it's pretty far out of the way unless you're already touring the region. Although personally, we think it's worth planning an entire trip around.
6. Voss, Norway
Credit: Skydiving Voss
We're heading to Northern Europe for the 6th spot on our list – to Fjordland no doubt! Voss, Norway is famous for the wide range of extreme sports it accommodates and the stunning scenery of the region. The fjords provide an unparalleled, rugged landscape mixed with the clear glacial waters in the rivers and bays. Pure bliss, if you ask us!
For the drop zone itself, it's only an hour from the popular Norwegian city of Bergen which makes it fairly accessible. However, being in Northern Europe, the season is limited to the hemisphere's summer months starting at the end of April and ending in the middle of September.
5. Rio De Janeiro, Brazil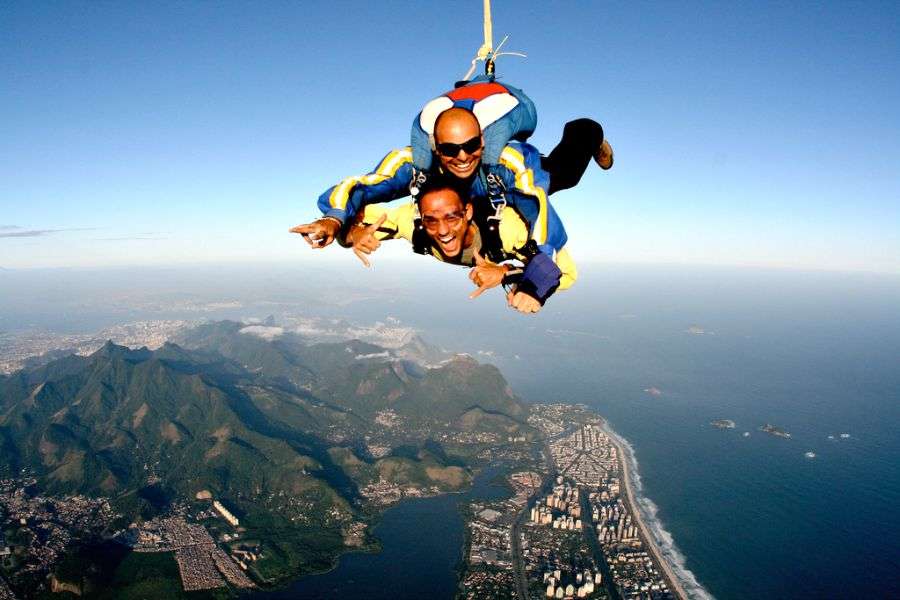 Credit: Backpacker Travel
There's just something about Rio – the sun, the sand, the vibrance. The city is just brimming with the air of possibility, adventure and stunning scenery. That's why it's made number 5 on our list. Skydiving in Rio gives you views of the city most tourists only see from land –  including Christ the Redeemer, Sugarloaf Mountain and Copacabana Beach. In 2017, the city even gained the first UNESCO World Heritage title for urban cultural landscape. 
Rio is popular with skydivers, especially on good weather days. We've heard there can be long wait times for jumps and occasional disorganisation amongst the operators, so be prepared to wait and stay flexible with your plans.
4. Lauterbrunnen Valley, Switzerland
Credit: Bus to Alps
We couldn't create a top 10 drop zones list without mentioning the Alps! The Lauterbrunnen Valley provides the perfect backdrop for one of the most beautiful skydiving spots in the world. Gorgeous green valleys, quaint mountainside villages and snowy peaks all await you in Switzerland. Top your afternoon off with an ice-cold beer looking out to the mountains and you may never have a better day. 
Just like our other colder destinations, the season is more limited in Lauterbrunnen, and Switzerland is known for being quite expensive as a destination for skydiving and adventure sport.
3. Queensland, Australia (Mission Beach to Gold Coast)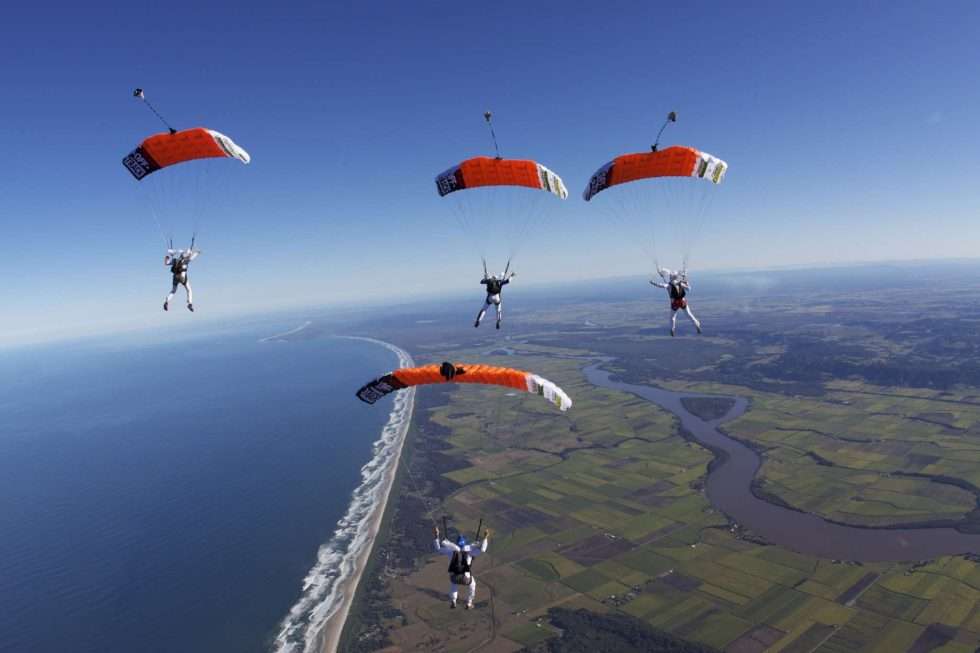 We couldn't possibly choose just one area in our home state of Queensland for this list. We're all too familiar with the incredible drop zones littered up and down our gorgeous coastline and each seems to be more spectacular than the next. On the Gold Coast, anywhere from Surfers Paradise to Tweed Heads, and further south to Byron Bay, offer some of the most pristine, yet accessible coastline. And then way up in North Queensland, lies the area next to the Great Barrier Reef. If you skydive from Mission Beach, you can see not one but two UNESCO World Heritage sites – the Reef and Daintree Rainforest!
The best part about Queensland is you can skydive here year-round. We are one of the sunniest regions on the entire planet, so you can bet you'll find a beautiful backdrop for your skydive.
2. Grand Canyon, Arizona, USA
Credit: Skydive Grand Canyon
Making the number 2 spot on our list is none other than the Grand Canyon in the ol' US of A. As another World Heritage site, there's a reason millions of tourists flock to this location every year to explore the awe-inspiring red vistas of this national park. But a way most people never get to experience it is from above! 
To understand its size, the Grand Canyon spans a whopping 4,931 square km, which is larger than the US state of Rhode Island! Skydiving from this spot is truly an immersive experience you'll never forget. And with hundreds of drop zones between the Grand Canyon and California, you can access this beautiful part of the world fairly easily. Being in the southern region of the United States, also makes skydiving here possible for much of the year.
1. Fox Glacier, New Zealand 
Credit: Viator
We have reached our number 1 spot, and it's none other than the adventure capital of the world – New Zealand. For being a small country, it has an extraordinarily diverse landscape – mountains, beaches, glaciers, lakes, fjords – the list goes on! This diversity is why we have given the number one spot to Fox Glacier!
As you plummet towards the glacier, you will be overcome by the sheer scale of the surrounding landscape and find a peaceful serenity as you float back to earth. Many people say this is their favourite drop in the entire world, and we see why! It's truly a skydiver's paradise.
___
What a ride it's been exploring these drop zones around the globe for you! We'd love to hear if you've jumped any or many of these incredible places on the list. If not, well, we've just created the ultimate skydiving bucket list for you. 
And finally, if you're based locally here in Australia and need any equipment or rigging services, be sure to get in touch with Downward Trend. Brett and the team have been skydiving for over 30 years, and we are passionate about keeping skydivers having fun in the safest equipment available.
Wishing you endless clear skies!
Phone
0400 011 331